Utterly Engaged launched their Anniversary issue last week and earlier this week I took some time to share a special project we contributed to their "Sew in Love" shoot.  Today I want to give a behind the scenes peek at the Paper Painted Blooms created for the issue!  Heavy watercolor papers, thick shimmering inks in sherbet shades and glistening vintage broaches all played a part.
A peek at the inspiration shots sent over to get my creative juices flowing.
Each bloom was crafted from a variety of papers.  Thick watercolor sheet were torn into strips and then painted with our signature Watercolor Stripe technique.  As each bloom was sculpted tiny tears appeared on the paper edges; such a lovely happy accident.
Recent Louis Vuitton ads provided the perfect inspiration for the shoot.  For me the moody settings and old Hollywood look of the ads fed my creative mind on this project.   Cameos and vintages laces were woven into each bloom.  I have a thing for collecting little baubles and lace runners.  A pair of scissors and a bit of pinning was all the runner needed to become elegant bouquet handle wraps and bloom detailing.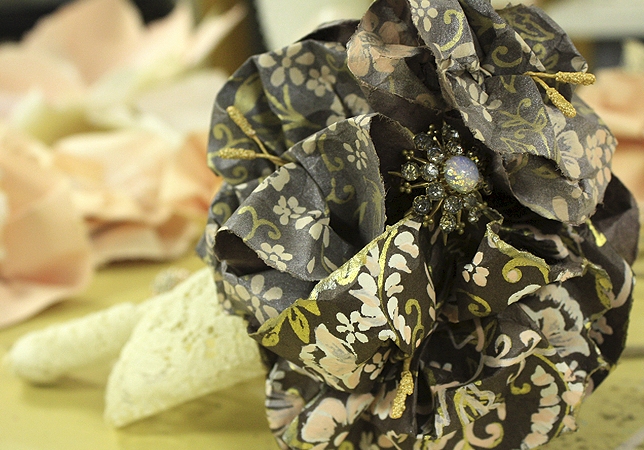 This little bouquet measured at a petite 6 inches and was crafted from a stunning handmade pattern paper that I then hand painted in shades of peach and gold.  A starburst like broach was woven into the bouquets center and sparkled like crazy every time the light changed.  This little guy didn't make it into the shoot but I loved it just the same!
A huge thanks again to Lucia at Utterly Engaged and Carissa from JL Designs for bringing me on board!