Momental Designs offers custom designed, hand-painted stationery for those celebrating life's most joyous moments. Our professional team of designers will make sure there is perfection in the details, because "Your story is art, painted beautifully!"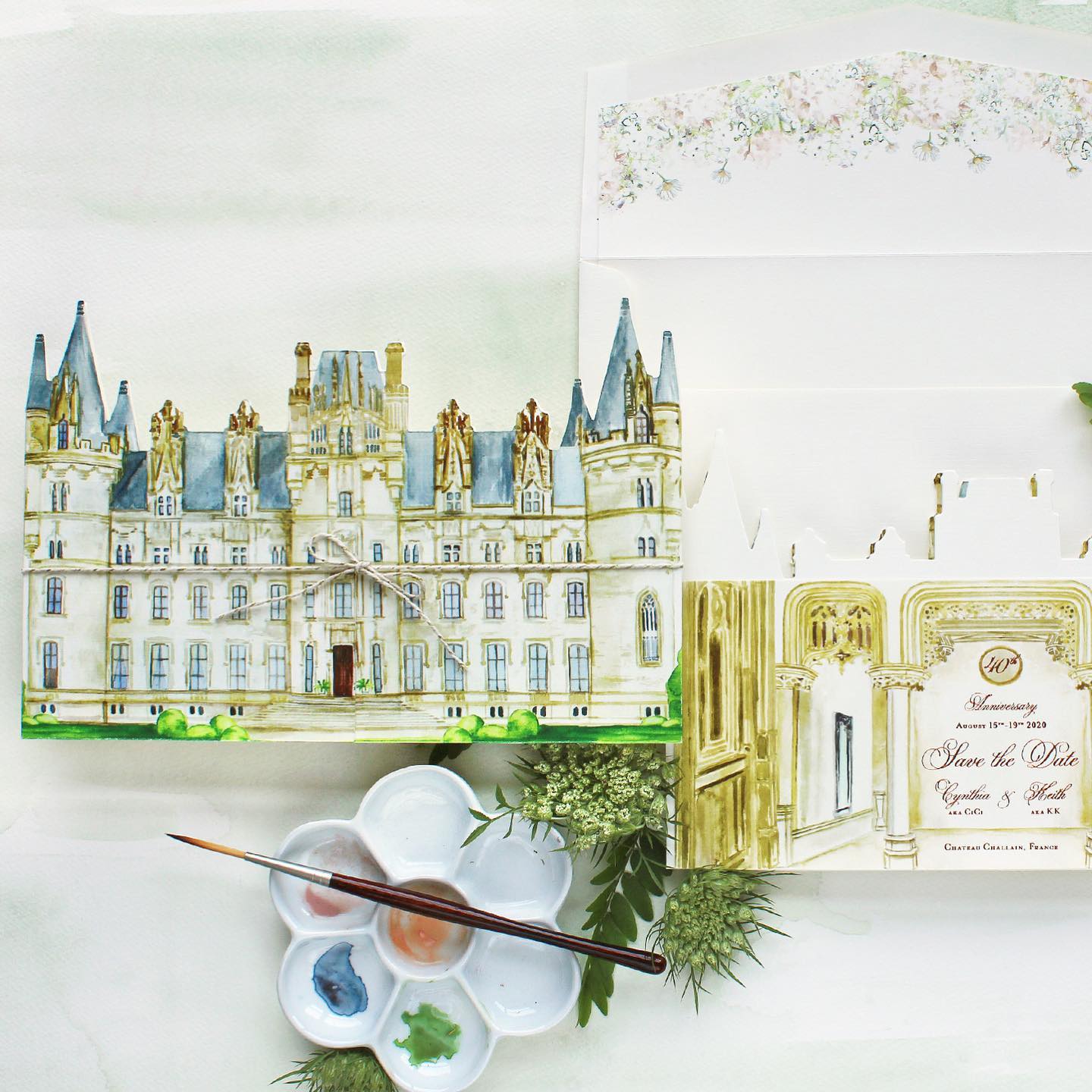 Save the Date Cards
The Momental Designs team will help set the tone and create excitement for your celebration with gorgeous watercolor save the dates. For your guests, the save the dates will be the first glimpse into seeing what is in store for them. Let us make it memorable!
Wedding Invitations
Every wedding invitation we create is specific to our clients' ideas and continues to tell the story of the joyful occasion to come. Our team would be honored to guide you through our custom design process, where your visions are made into a reality!
DAY-OF STATIONERY
When the big day finally arrives, the beauty is often found in the details, and the day-of stationery can be a key component. Coordinating seating cards, table numbers, menus and programs are just some pieces that can bring your design aesthetic full circle!
The word Momental describes Kristy's Philosophy. "Fine art has the power to move people to feel, take action and focus. Invitations painted to tell your story awaken the mind to the beauty of life's most profound moments. We make art collectors out of someone who just happened to open an envelope!"
Momental is an artist studio. Every Momental invitation features artwork of Kristy Rice and her team of seasoned artists. We want you to feel many things –JOY, elation, anticipation and adoration. Speaking about art is a love language we teach you to understand. Viewing art is an easily attained skill for anyone willing to open their eyes. Our team is here to inspire you and make your vision into a tangible save the date, invitation or any type of stationery keepsake.
Whether you're looking for a classic bespoke suite with just a hint of artistry, or bold statement pieces overflowing with imagery, Momental welcomes all. We look forward to visioning alongside you to create unique custom watercolor stationery pieces that are meant to wow!
The best place to start, you might wonder? Our "Custom Projects" gallery contains a vast collection of our most recent custom design projects that you can filter your search. We are so glad you are here, stay awhile and enjoy!
What they are saying…
"We loved working with the Momental girls on our wedding stationery! They have such an organized and clear process – from the initial call to discuss overall vision, to the Welcome Package with samples of paper and real past client examples, to the many touch points throughout the creative and design process. They have such a creative approach, and are always flexible and accommodating to ensure they achieve your exact vision! Our stationery included invitations (main invite, RSVP card & envelope, and hand painted map) as well as ceremony programs and dinner menus. Everything came out beautiful and so special! I highly recommend using Momental if you are looking for unique, memorable wedding stationery with an artistic approach."
"Momental Designs did an amazing job!!! They created such beautiful personalized designs for our wedding in Italy. The designs were so incredible, we utilized them for all of our wedding stationery, including save the dates, invitations in both English and Italian, and wedding menus. They are always so easy to work with, super helpful and have great communication. We highly recommend them for any occasion."
"I had a great experience with Momental Designs! The girls were very responsive and their work is incredible. I got so many compliments on my invites and they are truly a keepsake. The owner of the venue even asked me for one because she loved it so much!"
"The ladies at Momental were absolutely amazing! My invitations, day-of stationery, and thank you cards turned out even more beautiful than my original vision. Each step of the process was so clear and everyone at Momental was so responsive, helpful, extremely artistic, and a joy to work with. I cannot recommend Momental enough!"
"I couldn't have picked a more perfect invitation company for my wedding invitations! Working with the Momental team was a dream! The entire team was a pleasure to work with and their attention to detail is like no other! They made my vision and dream invitations come to life. The whole process was very organized and I enjoyed every moment of the design process and creation of my invitations. The quality of the invitations are absolutely amazing and the water color design of my venue and the hand painted details are the most perfect touches! I have gotten so many compliments on my invitations. I can't wait to use Momental Designs again!"
Explore More from Momental
We recognize that it is not just simply some paint on paper, our custom save the dates, invitations and stationery pieces capture a moment in time, steeped in abounding joy. We invite you to visit our carefully curated galleries that are bursting with inspiration to help you envision all the possibilities.