Alice has infiltrated the wedding world and it seems she may be here to stay.  From David Tutera's Alice in Wonderland Wedding to Annie Leibovitz's artful fashion shoot for Vogue we are left inspired and continue to be energized by this design concept.  Brides spanning the globe are crafting wedding tea parties, mad-hatted grooms and tea cup adorned stationery at a staggering pace.  We've seen it all.  A certain Momental Bride earlier this year chose to walk the aisle with white rabbit in hand verses the traditional bloomed bouquet.  So I felt it appropriate to yet again post about the Alice wedding phenomena.  Have you missed my Alice chatter before?  Take a look here and here.
So to me as of late there seems to be a divide in Alice in Wonderland wedding inspiration.  The first is a more themed, in-your-face reference to Alice.  Brides are wearing blue, grooms in distinctive top hats and and to some extremes both are literally acting the part.  In these cases we're designing whimsically sketched and watercolored characters to create scenes full of fantastical extremes.
Oversized blooms and Alice's quizzical presence tend to inspire these Brides time and time again.   In these more themed events,  the color palette tends to rely heavily on the rich, saturated tones seen in all renditions of the film from Disney's classic to Tim Burton's modern fantasy feature.
On the other side of this Alice divide,  classic Brides are indulging in the craze but more subtly.   It seems they simply cannot resist the sweetly-edgy vibe that Alice presents but while holding fast to their more traditional sensibilities.  Limited color palettes and an absence of direct reference to the movie's characters seem to personify these design projects. Mindy Weiss knows just what we are talking about.  Check out the sweet Alice soiree she planned.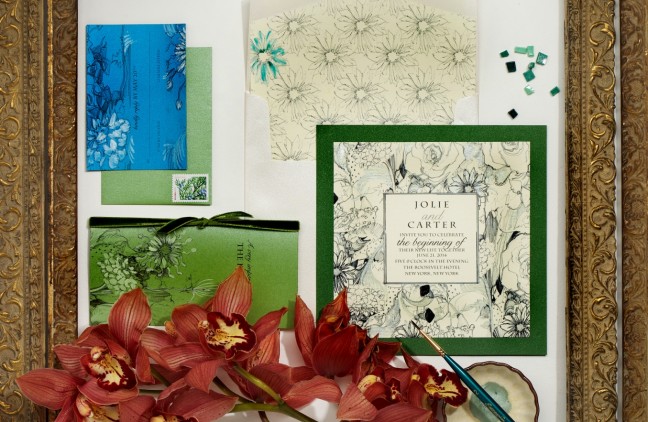 Here a simple reference to the scary blooms, as I like to call them are all that is needed to conjure an Alice in Wonderland wedding vibe…
So what type of Alice bride are you?