I am so excited to share Part II of Denise and JJ's wedding.  Part II is all about the glorious color and texture their venue brought plus a little about Denise's unique hand painted letterpress wedding invitations! Get a look at the quirky fuchsia chaise and those mod lantern/screen structures at each table.  I love the contrast of shapes and finishes; organic verses structured and lush verses sleek…stunning.
A touch of waxflower in the centerpieces is so unexpected!
Quite possibly my favorite shot…the bubbles, the ferns, the texture, oh my!
Denise chose our Vintage Lacy Tree Collection with dragonfly artwork fluttering throughout the collection.  Letterpress was an obvious choice for a bride in love with texture.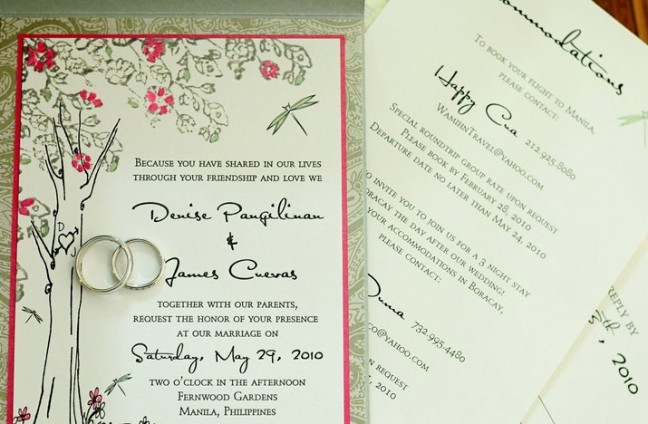 Each invitation was hand painted with over 30 fuchsia petals and shimmering sage brushstrokes mimicking grass.  Denise chose Envelopments® Mehndi Luster pattern and glistening fuchsia cardstock.  A thick, lush letterpress layer using Crane Lettra stock in soft white set the stage for a look that was both richly layered and mindfully colorful.  Denise saved a bit on budget by digitally printing her enclosure cards – smart girl!
A huge thank you to Denise and JJ for sharing their day with us and of course to Erron Ocampo for capturing every last detail so beatifully!  It was an honor to be a part of such an artful and passionate day!