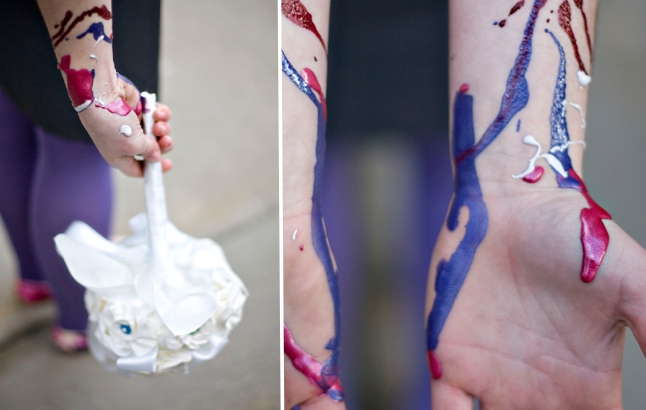 A few weeks ago I had this idea.  Ideas tend to get me in trouble since they usually require a lot of work and come to me so last minute that I am scrambling to make them happen quickly.  That being said though, these last minute ideas usually elicit really exciting results and lead to dream collaborations with my favorite people!
Recently Anne-Marie (editor of Perfect Bound) visioned a fun collaboration for the two of us.  Now I couldn't stop at just one project for a Saturday afternoon…I went on to plan a photoshoot of my Sculpted Bloom invitations and bouquets and of course asked Anne-Marie to style the whole shoot.  Her eye for fashion and mine for color were the perfect combination.
Daniel Lanton, my friend and fab photographer is always up for my crazy ideas and jumped on board for what turned out to be a crazy Saturday filled with national-park-police-dodging, cars-as dressing room adventures and paint splattered hands!
Each bloom is crafted from watercolor painted papers,  feather thin rice papers, vintage hankies and broaches.
Here I  love the bold red bloom contrasted by the sleek black  silk box.  The woody vines were a great find in Scranton, PA, where we found an old brick building practically cocooned in these vines.  Just gorgeous.
There are so many more images to come but I need to keep them secret for now!