Twice a year I have the privilege of stepping out in the world to be welcomed with enthusiasm by some of the most exquisite resorts on earth.  The Engage! Wedding Symposiums are my opportunity to get out and interact with my fellow wedding creatives.   How else do we stay fresh and innovative for all our amazing couples?  So take a moment today to see what happens when wedding creatives have the chance to…well, plan a party for themselves!
We designed menus and a special gift for all attendees which was presented at the gorgeous outdoor lunch on day 2.  Raj Tents blew us away with their attention to detail and exquisite color palette.  We took their cues from to design this textural letterpress menu featuring a textile inspired pattern made entirely with paint and a bit of spray painted lace!
The menu itself was letterpressed by Two Paper Dolls and then we went a bit crazy with paint spatter on each and every piece afterwards.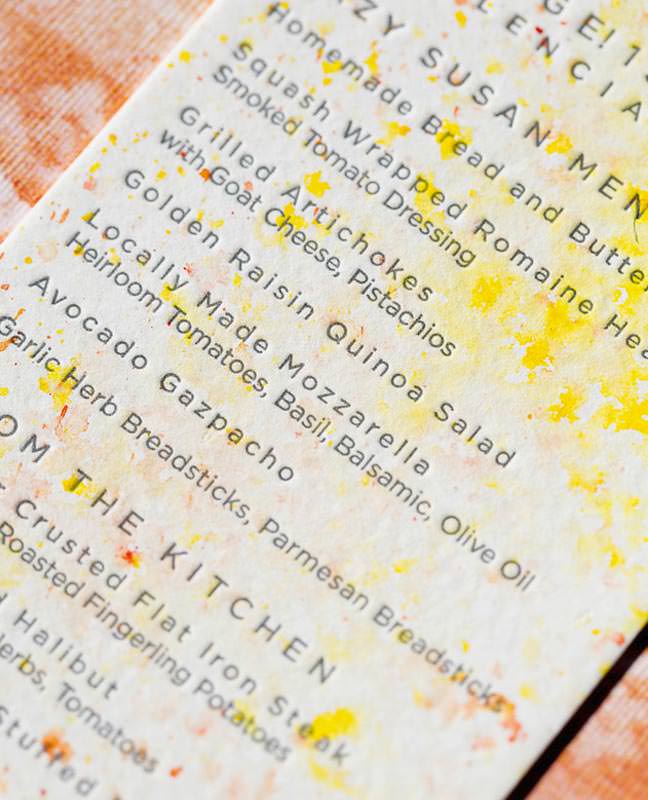 We've been painting for these Engage! conferences since 2008 and this year's itinerary booklet was by far my favorite.   Each was individually watercolored in the spirit of vibrant and lively Montelucia sunsets.  We then added a custom laser cut binding reminiscent of wrought iron details seen throughout the resort.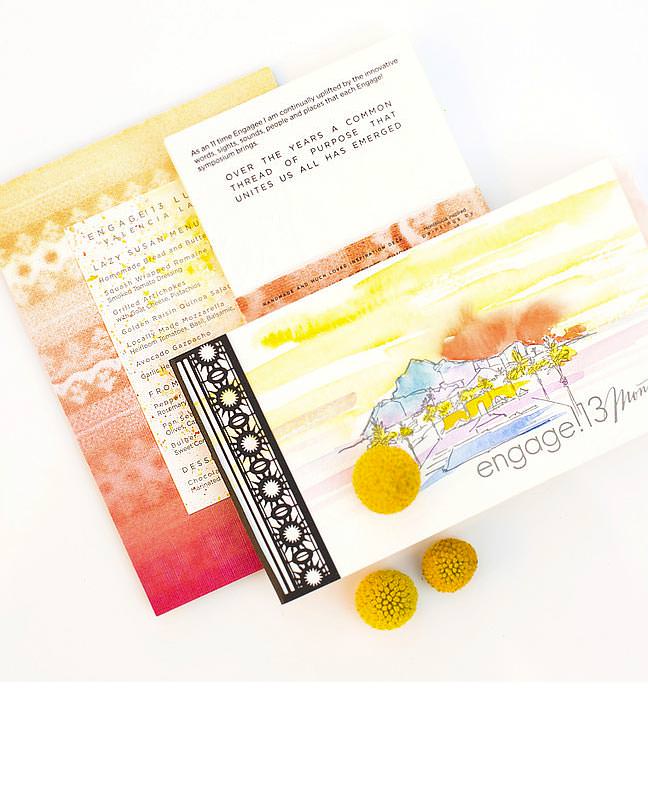 The booklet's interior featured our much loved timeline look complete with custom watercolor illustrations.
And yes, each and every was hand painted…can't think of another way to express the life and vibrancy of Montelucia…we watercolored for days and days… Want to watch?
Each attendee received this inspiration deck filled with quotes from some Engage! veterans.  Each was a limited edition set of watercolor and letterpress loveliness. Huge thanks to Matt from Revival Letterpress for sponsoring this project!

Each double thick card featured inspiring quotes about artistry in the wedding industry.  We then hand painted each with an abstract vibe generated from the gorgeous Montelucia Resort.

Venue – Montelucia Resort and Spa  :: Photography – thanks to Elan Artists – Chellise Michael Photography and Scott Clark Photo  ::  Hand Painted Stationery – Momental Designs  ::  Menu Letterpress – Two Paperdolls  ::  Limited Edition Inspiration Deck Letterpress – Revival Letterpress  ::  Linens – LaTavola Linen  ::  Tents – Raj Tents