This time of year I get a hankering for heading west.  It's usually when the air out there is entirely too hot but just the same in early August I start longing for the clean, crisp air and big open sky of my beloved second home in redrock country.  Soon enough…but until then I'm digging into the archives to find some of my favorites from Zion and Yosemite National Park Weddings!
This first suite is near and dear and reminds me of the crisp May day when the Hubby and I renewed our vows on the edge of the Virgin River in Zion.  Hard to believe we celebrated 10 years, 3 years ago!!  See more from our renewal here…
Watercolor Letterpress save the dates and a reproduction of the Hubby's favorite Zion painting of mine found a home on our renewal paperie.  Abstract ombre textures and painterly brushstrokes made each guest feel at home amidst the rough and craggy redrock, set against the crystal blue skies.  Our suite told a story of place with some pieces more obvious renderings of the countryside and others leaving more to the abstract imagination.
More on how the save the dates came to life, here.

Recently Sarah and Dean fell in love with the very same painting allowing us to find ways to make it new and very much theirs.
Yosemite weddings call on the rustic charm of a park filled with majesty and richness of nature's gifts.  Anya's painting combines an effortless vibe in sketch and watercolor…you instantly can feel the wind rustling through the trees with just one look…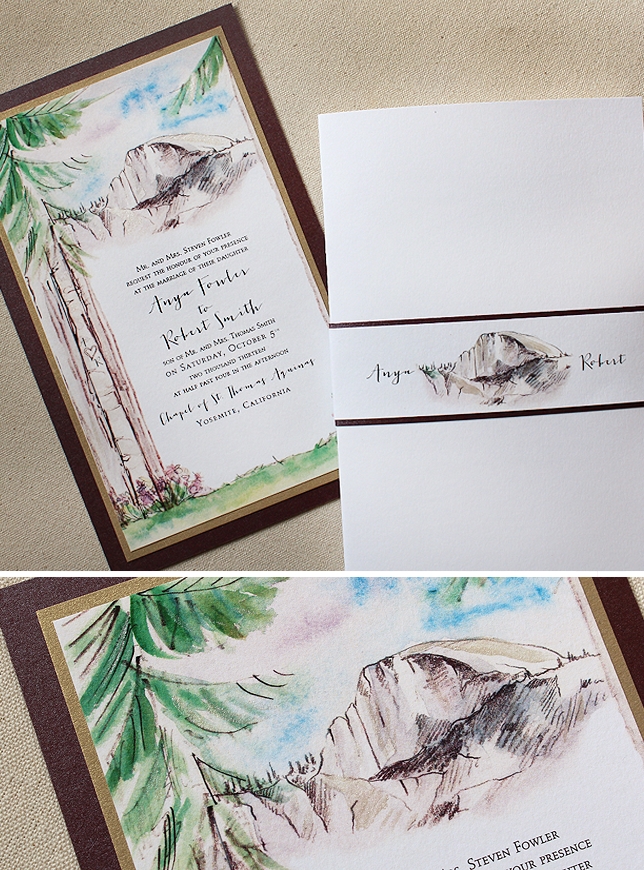 Back to Zion and this time I captured the infamous Angel's Landing.  Michelle was coaxed by Michael into hiking this iconic trail on their very first date!  Brave girl.  The invite was designed as a folded keepsake where guests could fold back or trim away the invitation wording to frame only the watercolor painting.  Imagining being sent a personally commissioned piece of artwork!

Yosemite again and this time we captured a rustic vibe inspired by so much of the woodland that encompasses the park.  Here a whimsical tree is foreground to Yosemite Chapel.

This suite has inspired so many couples – the soft color palette, the modern vibe…it just works and feels incredibly artful just the same.

What I love most about this design is its subtly.  The National Park inspiration doesn't overwhelm, it gently nudges you to look further and deeper.  The very clean sketches of Zion's horizon compliment the abstract sunset design seen throughout – watercolor half-circles make such a statement in a very simple way.

Another keepsake style design ready for framing!  This depiction of Yosemite Chapel is all about Winter.  White brushstrokes are magical against the champagne cardstock.  A drybrush technique creates a Faux Bois look beneath the invitation wording.
Tunnel View is arguably the most iconic vista in Yosemite National Park – and you can see why…We captured this in a more realistic painting style for Carol and Ian.

So who's ready for a road trip?