Flipping through the most recent issue of Lucky Magazine, this beauty caught my eye.  Reading on I learned more about what Lisa Salzar of Lulu Frost named her 100 Years Collection, where baubles in each necklace represent finds from 1860-1960.  Seen below are elements of French Enamel, Art Deco and Czech Glass.
The Czech glass seen below was often mistaken for precious gemstones.  We love the vintage dress clips seen below left that took a day dress right into the evening!
Victorian Glam from our Movements Collection harks a similar vibe of vintage-marries-modern seen in Lisa's creations.  Here iconic cameos are transformed into art pieces that pack of punch of color and whimsy but still honor the classic details of its inspiration.  A hot pink, gold and chartreuse color palette makes the sketched version of this cameo fresh and new.  Touches of crocheted lace and silk ribbon add a friendly feel full of warmth.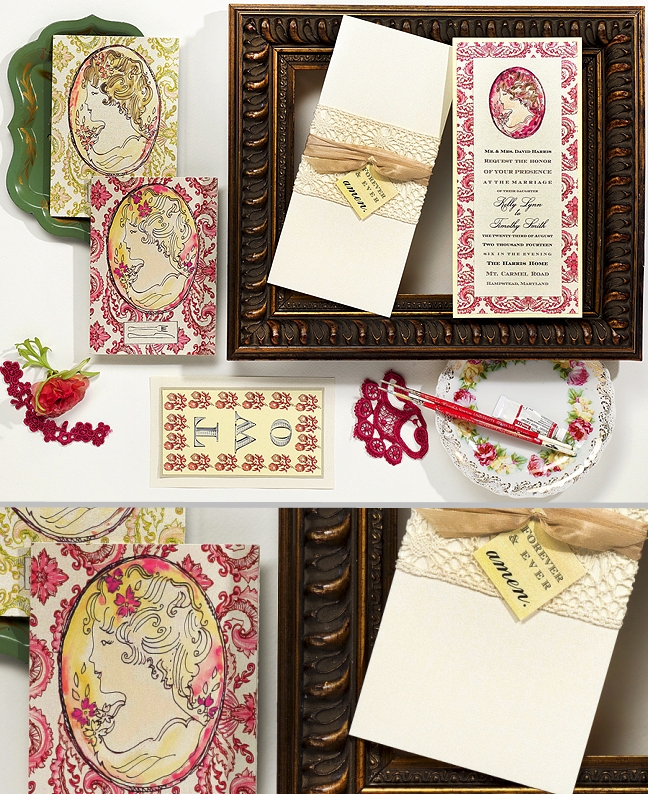 From personal adornment to paper expression we love making eclectic statements!