We're so honored to have been part of the cover shoot for Munaluchi Bride Magazine.  The ladies behind this publication have fierce spirits and some amazing ideas to back up up that fire.  They've created a platform for brides of color craving the utmost in style and culture.  This cover shoot had its home at The Villa at Sunstone Winery which Elizabeth Messina captured effortlessly in all its light filled glory.  Look on for more.
We created an abstract interpretation of the hand painted wedding invitation.  Peonies became clean, controlled brushstrokes of color with a focus on shape and fanciful movement. Hard Ink Calligraphy created a custom hand to mimic the spirited nature of our brushstrokes.
The original color palette inspiration…
The main invitation featured abstract brushstrokes, swipes, texture and dots of creamy white.  Ranging from sheer and whimsical to creamy and saturated coral tones, this look speak volumes of understand artistry in a modern voice.
Love letters….of course…


I sent over these sweet glitter birds as a last minute touch for each place card.  Beauty.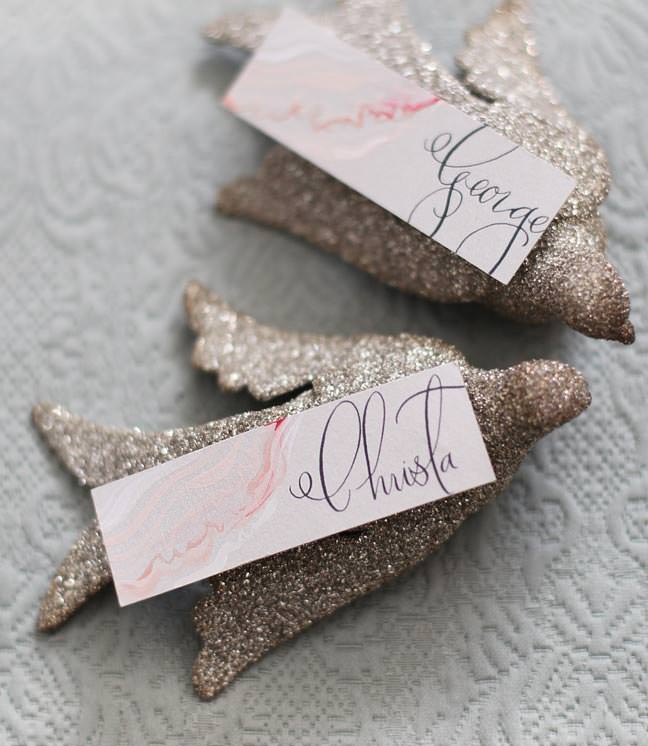 And the peony….This technique requires the brush to barely touch the paper…soft and graceful with a controlled hand…
One of my favorite images from the shoot…a masterpiece of styling.

Amazing experience that pushed my design to new levels.  Every once in a while a project has that power…the power to edit, restrain, think simply but powerfully.  That is what happened here.
My fellow creatives, Bravo.
Venue –  Villa at Sunstone Winery  ::  Photography – Elizabeth Messina  ::  Hair/Makeup – Erin Skipley  ::  Shoes – Aruna Seth courtesy of Pistol and Stamen  ::  Fashion Styling – Eronmwon Balogun  ::  Assistant Stylist – Laura Wise  ::  Floral Design and Styling – Dolce Designs Studio  ::  Dresses – Claire Pettibone, Ines di Santo, Romona Keveza, Monique Lhuillier  ::  Hair Accessories – Twigs and Honey & Jannie Baltzer  ::  Sashes/Accessories – Desla Couture  ::  Jewelry – Garvey Lundy  ::  Stationery – Kristy Rice of Momental Designs  ::  Calligraphy – Hardink Calligraphy  ::  Production/Produced By – Be Inspired PR  ::  Cake (pink ruffles) – Cupcakes Couture of Manhattan Beach