I have a fun peek into the studio for you today!  Polka dots are a favorite, so when Envelopments launched their Swiss Dot Collection we were in love! Jennifer was too, hence the gorgeous ensemble designed around dots.  She chose our Austin Bouquet artwork from the Painted Blooms Collection and combined with custom elements from of Versailles Swirl.
Of course we completed the look with our signature hand painted dots.  Another of our favorite patterns from Envelopments made an appearance here.  Magnolia Repousse complimented our hand work perfectly. 
Briana's sweet little favor tags were painted in white.  Clean lines of the sketched coral paired with a simple painting technique created a rich look that didn't take itself too seriously.
Lisa and Carlo's personality were just as chill as their very chic save the dates.  Matte and shimmer finishes mingled with a custom watercolor painting of the Bermuda coastline while a free hand painted bellyband mimicked the look of waves and ocean spray.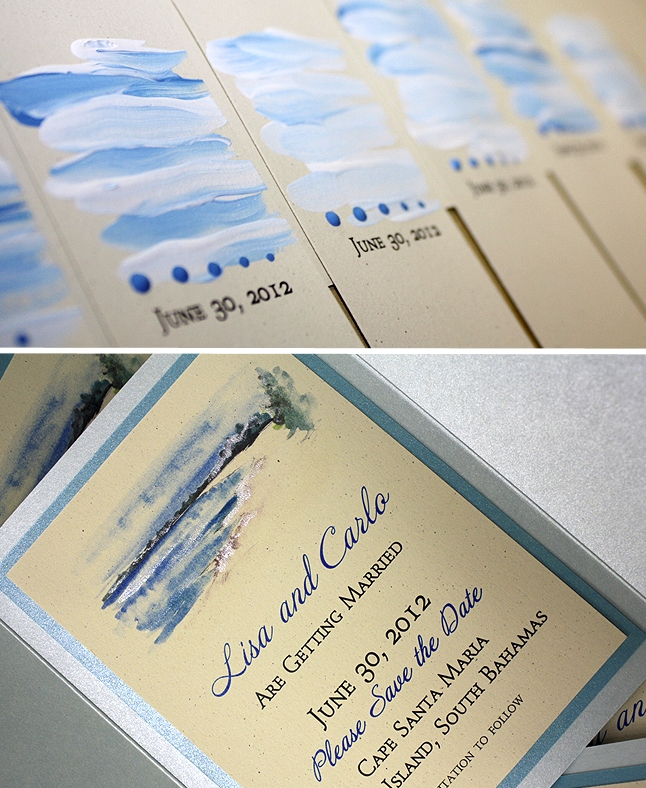 So what am I up to?
Wrapping up a gorgeous painting project with Celebrations Ltd in Grand Cayman!
Envisioning some pretty featuring Momental fabric!
Blogging for Envelopments, check out some of the latest posts here, here, here and here!