As we gear up for the relaunch of Momentaldesigns.com next week, with the beta site going live to some on Thursday I'll be re-posting a few of my favorite projects from the past few years.  Enjoy!
You may have heard me speak of my art teacher growing up, Sue Hand.  As a young art student I was hungry for new; I wanted to absorb everything I could about the world of art I knew so little about.  Sue would take myself and others with a blooming interest in all things painting, on day trips across Pennsylvania to visit museums, gardens and the like.  Jessica, our lead artist at the Momental Studio was with me on some of these trips and we recall, likely with the most vivid details our treks to Brandywine River Museum.  Home of a large collection of Wyeth paintings, this museum holds a particular charm for any who posses a respect for the family's distinct pastoral, rustic and detailed approach to painting.
Andrew Wyeth specifically had a gift for capturing mood.  Mood and drama as thick as the foggy, snowy skies seen in so many of his works.  So when I was asked to create an art shoot inspired by my home state of Pennsylvania as a wedding destination spot, I immediately thought of Andrew Wyeth and my many trips to Brandywine.  I imagined rough textures, detailed paperie and a certain early spring vibe where there air is still chill with the lingering of winter and promise of spring's reprieve.  I envisioned a table of friends  gathering to celebrate the deepest of loves over a bountiful meal of colorful fare.   All of my imaginings came to life with a group I call friends.   Amazing, gifted friends who took my vision and made it so incredibly real and infinitely a much better version of itself.
Victorian Alphabets became my muse as the scene unfolded and artwork was developed for these letterpress Rustic Wedding Invitations.  Hand sketched swirls and lettering, later painted with watercolor and creamy inks became the focus of the three stationery suites created for the project.

Sullivan Owen's touch added a magical vibe just a s Tara LaTour's Judith gown set the scene for delightfully uncommon wedding design aesthetic.   Our lovely Kaitlin….with a feathered cap I thought was just, well just perfect.
Sullivan built a tablescape installation centered around a birch trunk topped with various greens including graceful air plants.  Iron chairs sourced by Maggpie Vintage were topped with hand sewn, tea stained cushions.
Our very own Jess Z. happens to be the skilled chef behind The Soup Chic so she took the lead of menu and food styling.  Traditional Pennsylvania dutch choices like pickled eggs and roasted game meats made their way to a stunning buffet.
Overfilled pies with gorgeous flaky crusts took the place of traditional wedding cake.  I was especially smitten with the lace wrapped locally brewed root beer!  Simple swirls from the invitation pattern adorned place cards which each featured personal notes to guests inside.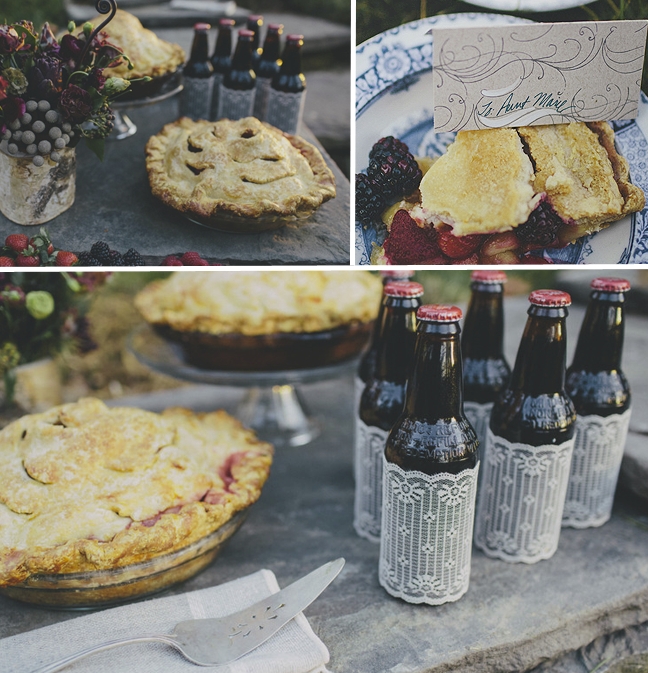 A peek at one of the three hand painted letterpress invitation suites created.  Delicate and tentative vine sketches along with hand illustrated text created a quaint, comfortable but still incredibly artful vibe.
Jessica here at the studio recently developed a cool painting technique to replicate the texture of rough hewn wood.  I used her technique for the menu layering in shades of muted blue and sage.  Look close and get lost in the painterly details.
Moravian Tile Flowerlettes were gifted at each place setting.  The Moravian Tile Works is a Pennsylvania landmark still producing iconic tile pieces from centuries old molds.   Our model Kaitlin holds a vintage Roseville Pottery basket filled with Sullivan Owen's pretty plunder.

There are no words.  Ahhh! Love.
All at once our scene of detail becomes real as we sit to enjoy.
Thank for having a look at my favorite art shoot to date.   Be sure to head over to Ruffled and the Destination Weddings blog to see more! Soon I'll be sharing more about the painted runner and two other stationery suites!
Originally Posted March 21, 2013
 Shoot Location – Dallas, PA  ::  Photographer  – With Love and Embers  ::  Event Styling, Concept, and Design – Kristy Rice of Momental Designs  ::  Florist – Sullivan Owen  ::  Event Venue – The Cottage at Hillside Farms  ::  Gown –  Tara LaTour  ::  Hair and Makeup – Tatum Neiderhiser   ::  Food Styling – The SoupChic  ::  Vintage Rentals and Styling – Maggpie Vintage  ::  Hand Painted Letterpress Stationery –  Momental Designs  ::  Model – Kaitlin MacCullum