Today is all about the stationery from our Dali project!  Want to get caught up and lost in all the stunning shots from Sanderson Images?  Have a look here and then here!
For this shoot a couture wedding invitation was created to express the over the top aesthetic that was so Dali.  A massive bloom was crafted from layers of cut ovals in shimmery stocks. Our voluptuous magnolia bloom and flourish hand drawn pattern were seen peeking from behind various layers throughout.  White painted on each petal really popped against the shimmery blue and gray papers.  In the center a large brooch in shades of amber acted as the flower's center with a ruffly treatment surrounding made of velvet and silk ribbons.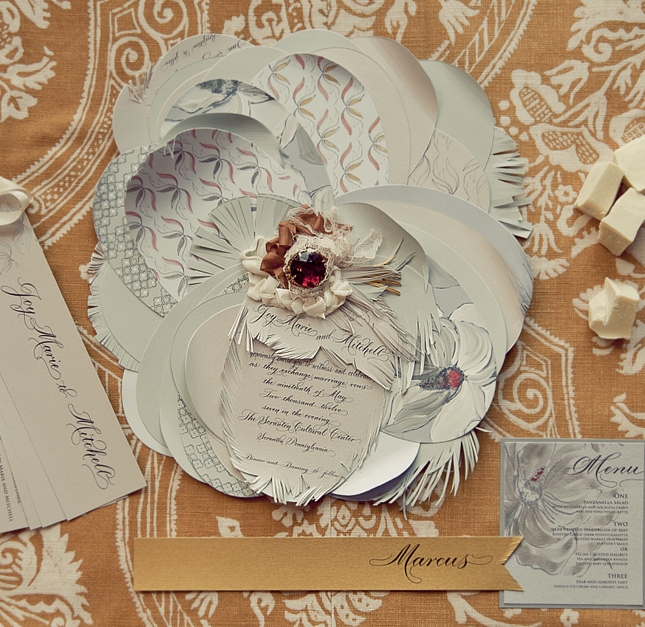 A coordinating, more budget friendly invitation designed with the same lofty magnolia bloom was then painted with lavish brushstrokes of white ink.  In classic Dali style the envelope liner donned tiny lobster sketches with one painted in vibrant crimson.  We love subtle unexpected details like these.  Envelope liners are a great place to infuse personal imagery most meaningful to only you as a couple.
Place settings were framed as works of  art, highlighting our golden flag place cards, calligraphed by the talented Moya Minns.  A ruffled effect was created with a fine hand cutting technique.
Petite menus featured the magnolia once again but painted in gunmetal silver inks against shimmery, textured, dusty blue stock.  A touch of red ink was added to each stamen for an unexpected pop of color.
Mom and I created a twist-on-traditional handmade paper bouquet of free-from painted butterflies cut from thick watercolor papers.
Wispy silk ribbon was knotted along the length of the bouquet handle with long streamers cascading to one side.
A very special thank you to Jessica Dal Santo for being my creative companion through the months of planning; for sharing her vast knowledge of Dali and being a sounding-board for nearly every detail planned.   I have no words for the amazing team who listened to my crazy ideas, added their own and were just willing to truly collaborate.  Our time together was alive with the type of artistic energy that makes me want to jump out of bed each morning and make art, paint and wow my brides with new designs.  Thank you all for following along and diving into this world of Surreal Wedding Inspiration if only for a moment.  I went out on a creative limb with this project and hope to have inspired you in some small way to be bold and nothing but yourself!
Design and Styling: Kristy Rice, Momental Designs / Photography: John and Kim Sanderson, Sanderson Images / Flowers: Dorian Butovich, Central Park Flowers / Stationery: Momental Designs / Calligraphy: Moya Minns / Linens: LaTavola Linen / Dessert Table and Design Assistants: Desiree and Sara, Desiree Spinner Events / Desserts:  Lisa, Delicious Desserts / Production: Danielle Pasternak Events / Vintage Rentals and Production: Maggie Farrell, Magpie Finds / Location 1: Lavish Boutique / Location 2: YMCA / Makeup: Béke Beau / Hair: Lisa and Danielle, Lavish Salon / Dress: The Wentworth Gown by Carol Hannah /Sweater: Anthropologie / Flower Belt: Twigs and Honey / Jewelry: Exstasia / Model: Kaitlin MacCullum