Every so often an opportunity comes along that takes your breath away.  It can be a stunning concept that gets the blood pumping, a chance to work with an admired artist or simply a moment to dedicate to pure art for art's sake.  Our latest project recently featured on Style Me Pretty was all of these things and I am grateful.
We began with a simple idea and asked Sofia from Brancoprata to create this inspiration board for us over at Style Circle.   This wedding shoot was meant to be pure art, all inspiration and light on reality.  Art for art's sake with a dash of wedding is the point. I wanted to put a surreal spin on every traditional wedding element included.  Working closely with the talented husband and wife duo of Sanderson Images, the basic inspiration for the shoot was conceived.  We studied Dali and read as much as possible about the eccentric character who became our muse over the span of 3 months.  Very early on John sent an email, where in his own words, he captured the essence of Dali and therefor the shoot overall:
"From Dali I get a a sense of an alternate reality.  To me Dali had a thing for that moment when SOMETHING IS HAPPENING that makes your blood flow faster and makes you alert and full of adrenaline. But he also took that moment and made it happen out of context. He made things go missing, everything was out of place or in action, and he changed reality."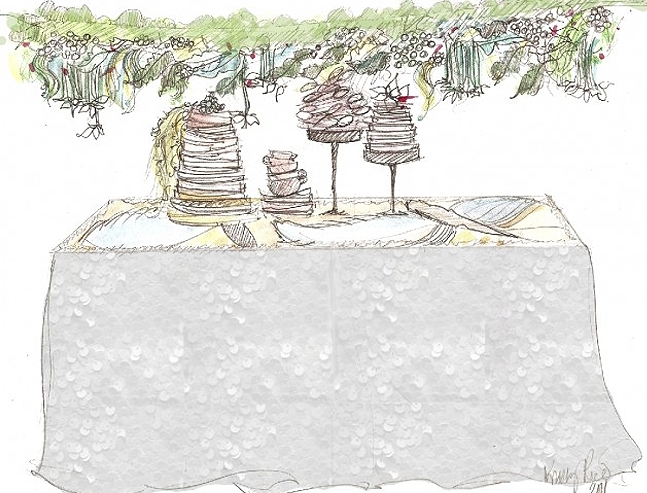 To further communicate the sense that "something is happening" or is about to happen we did not set a traditional table.  A sculpture of sorts was created from stacks of vintage china and piles of tarnishing silver flatware set atop glass pedestals.  I wanted to create a sense of a modern buffet with beautiful dishes piled high.  I can imagine this layout in a real setting where guests choose their dinnerware from lovingly collected pieces of the couple.   We are so lucky to have Maggpiefinds right in our backyard.  Every weekend Maggie and Jason hunt for any sort of vintage plate, chair and cushion to lovingly bring back to life. Lavish Boutique in Scranton, Pennsylvania opened its doors to us on shoot day.  Large floor to ceiling windows let the natural light flood in…
Dorian from Central Park Flowers erected a massive runner  suspended above the table filled with Spanish Moss, Weeping Willow, Kangaroo Paw, Dusty Miller, Billy Balls and Yellow Orchids.  Beyond words.
Our 8 ft table was topped with a custom fit stretch of raw canvas painted with oversized, graceful interpretations of the butterfly seen in Dali's painting.  At first glance the painting communicates abstract brushstrokes of color but upon closer inspection the butterflies emerge.   A sense of hand in obvious as areas of scribbled details and paint drips are seen throughout.  The canvas was later pulled from the table and used as a backdrop for our bride.  We love the idea of a piece like this being used in various ways throughout the wedding day.  It becomes a traveling piece of artwork intent on making a memory at every glance.
Jess and I tagged team painting this beauty.  We literally walked around this piece for 3 hours just adding paint here and there until the butterfly emerged.
Our stunning model Kaitlin in a Carol Hannah original posed in front of the hand painted table top!
Kaitlin's haunting beauty was emphasized by the incredible artistry of Béke Beau.
There is so much more to come – A surprise location, gorgeous art shots from John and Kim, a couture painted invitation and….well, just check back often this week!
Design and Styling: Kristy Rice, Momental Designs / Photography: John and Kim Sanderson, Sanderson Images / Flowers: Dorian Butovich, Central Park Flowers / Stationery: Momental Designs / Calligraphy: Moya Minns / Linens: LaTavola Linen / Dessert Table and Design Assistants: Desiree and Sara, Desiree Spinner Events / Desserts:  Lisa, Delicious Desserts / Production: Danielle Pasternak Events / Vintage Rentals and Production: Maggie Farrell, Magpie Finds / Location 1: Lavish Boutique / Location 2: YMCA / Makeup: Béke Beau / Hair: Lisa and Danielle, Lavish Salon / Dress: The Wentworth Gown by Carol Hannah /Sweater: Anthropologie / Flower Belt: Twigs and Honey / Jewelry: Exstasia / Model: Kaitlin MacCullum