3 weeks until #Renewalinzion and one month until #Renewalinpa.  Besides asking myself "what were you thinking" daily and calming the cake transport, delivery and setup fears, all plans are progressing well and things are lookin' good!  Many have asked how the cake design is coming so read on as I dive a bit deeper into one of my favorite aspects of the planning to date.
Remember my two days in New York last month when I met with the lovely Sylvia Weinstock and had one of my artistic dreams come true?  At our meeting I received the green light from Ms. Weinstock to collaborate and combine her artistry with mine.  Dreamy.
A painting trek to Kolob Canyon while in Utah finalizing plans for the ceremony ended with a watercolor study of the red rock landscape.  Quite taken with the drippy, painted effect that water and time etched into the stone, I put brush to paper and soaked in the silent, restful surroundings.  Some time later I was left with an abstract study featuring washy stripes of color.  Only after packing up my gear and beginning my 1/2 mile descent back to the trailhead did I think about how insanely pretty this watercolor study could be for my Sylvia cake.  My apparent obsession with line quality and striated color did not stop there and fed into my peony painting technique as well.
So the designing began, based of course on a sketch.  I requested images of Ms. Weinstock's iconic ruffled peony, the same which will adorn the top of the cake, to create a watercolor illustration to inspire the top tier painting.  How cool.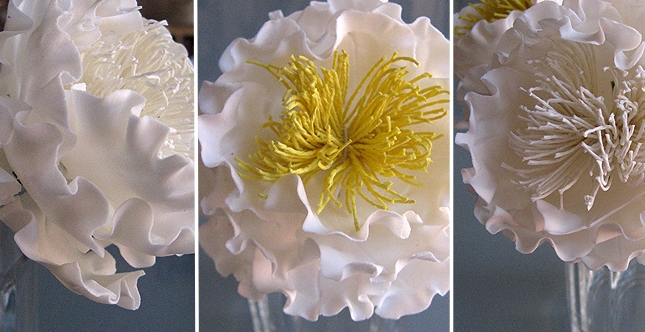 To put my own spin on the look I added peach tones, a bit more texture with brushstroke and greens.  A reproduction of my peony will be painted on the top tier of the cake.  The team of artists at Ms. Weinstock's studio will literally use fondant icing as their canvas.  After seeing their painted magnolia's on a sample cake in the studio I was hooked on this style.  I am curious how they will interpret the gradient quality of the watercolor with icing and such?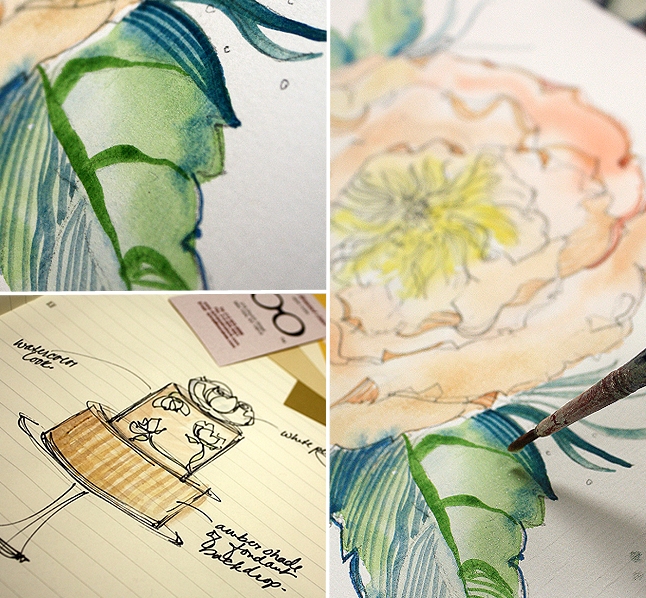 The finished peony.  I could never tire of flowers, looking at them, interpreting their beauty and thinking of new ways to bring them to life in my work.  Thanks Ms. Weinstock and team for collaborating and inspiring me to bring this bloom to life!