Our summer was filled with gorgeous design, the messiest of painting tables and some amazing collaborations.  Leila of Be Inspired PR is not just the gal who knows people, she is a talented and insightful designer of sorts who know how to assemble a team, inspire good design and style a killer stationery shot in my absence I might add.  Leila brought together a team to create an imaginary 6th Birthday Party and the results are sure to inspire the kid in you!  From richly saturated floral design in shades of red and fuchsia to stripes of all kinds from fabric to paper, the ideas for a sweet kids birthday celebration seen in this shoot are all about summer fun!  Jenn from the insanely popular Hostess with the Mostess blog honored us with a lovely feature recently.
We love the pinstripe linen!  The clean lines of the table design is so refreshing.
From the bountiful blooms to the sweet little man holding blueberries, I simply cannot get enough of this!  Sweet peas, dahlias, peonies, Zinnias and Celosia all on a delicate lace…what could be better?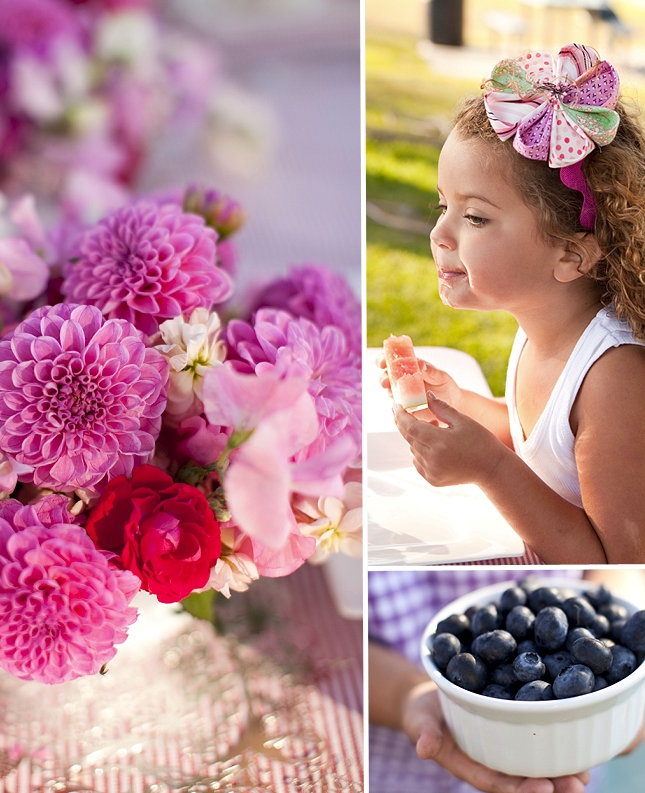 The Kids Birthday Party hand painted invitation and stationery was a joyful mix of our Signature Watercolor Stripes, custom double Popsicle watercolor and candy illustrations!
For some reason I could not get Sarah McLachlan's Ice Cream song out of my head when creating this collection, thus this cheeky invitation tag was born.  A bit of aqua twine and a delicate pink polka dot wrap tied up the look.
How sweet are these paper pinwheels?  Thanks again Leila for the pretty paper styling in these shots.  I couldn't have done it better myself!  Last but not least is the fabulous team.  It was such an honor to work with all of you!
Photography – Becky Hill Photography
Designer – Angel of Love and Splendor
Floral – Kristin of The Treasured Petal
Stationery – Kristy of Momental Designs
Ice Cream Cart – Sweet Lucie's Organic Ice cream
Bundt Cakes – Nothing Bundt Cakes
Panton Chairs – CORT
Linens & Pillows – La Tavola
Hair Flowers and Accessories: Petal and Thorn