To go beyond the lovely standard…
We adore digital printing…yes, it is affordable and makes more room in the budget for our lovely hand painted details. However, nothing can replace the enchanting glimmer of foil printing or the subtle elegance of a deep letterpress impression.
This gallery will introduce you to the many printing techniques available. Consider mingling flat printing with letterpress or foil, no combination is impossible!
Blind Letterpress
A deep letterpress impression made without any ink. Perfect for those looking for the personality of artwork but without the commitment to a particular color palette.
Thermography
Raised lettering with a slight gloss finish. This technique combines beautifully with hand painted moments.
Engraving
The classic upon which Thermography printing was developed. If you are looking for the utmost in classic printing, Engraving is your choice.
Foil
Foil printing, especially on thick stocks, makes a gorgeous impression into the paper. Watercolor washes atop and around foil are a Momental signature.
Letterpress
Deeply impressed text and artwork have become the new standard of classic invitation design. We adore adding delicate painted moments to elevate an already exquisite finish.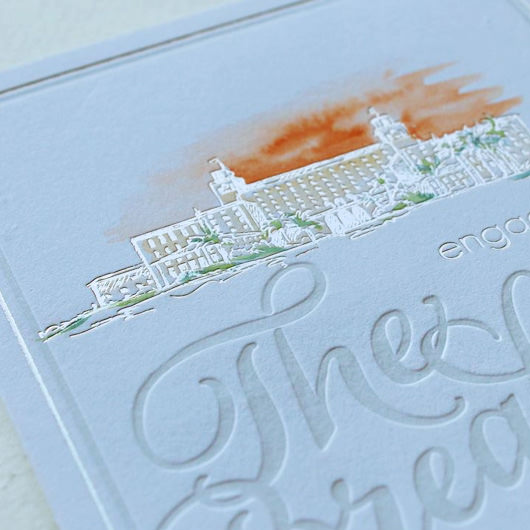 Foil Combined with Blind Letterpress
Texture, texture and more texture is the story of this printing combination. Watercolor brushstrokes only add to the drama here.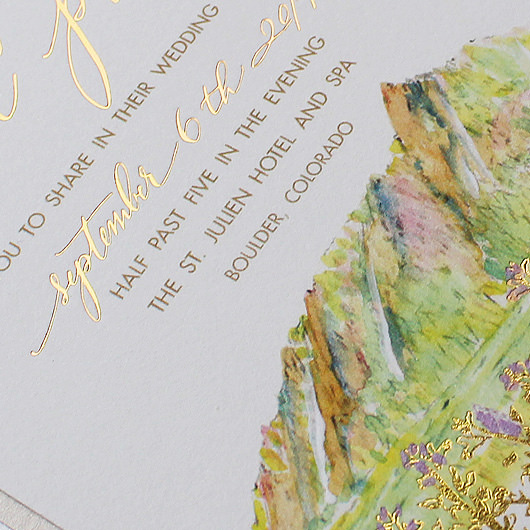 Foil Combined with Flat Printing
This combination is a favorite, as you gain the glam and elegance of foil printing, but the color and wow of detailed digital printing. Hand painted moments mingled throughout this combination make for a magical finish.
Letterpress Combined with Flat Printing
Letterpress printing is best suited for outline style artwork and text, so combining this classic printing technique with flat printing means no compromise on watercolor painting lovely-ness!