One of our priorities when designing your hand painted wedding invitation is ensuring your guests feel as if they are opening a gift upon receiving your invite, and our embellishments do just that!
What you will find in this gallery are other ways to create a memorable presentation and increase that wow-factor with combinations of ribbons, tags, wax seals and paper wraps. We can create anything from the simple and chic to the grand and ornate, you get to choose. Imagine how you might combine a few of these elements to achieve an incredible experience for your guests who simply open an envelope!
Cardstock Wrap and Art Tag
A classic choice to embellish your invitation suite. Cardstock pattern or texture of choice paired with a hand painted art tag. Add scripture, a quote or monogram to personalize the look.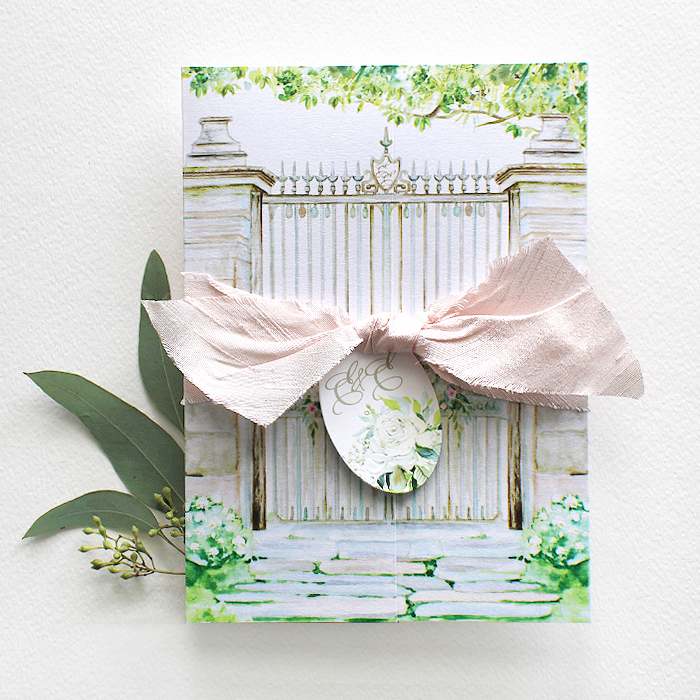 Dupioni Silk Ribbon with Die Cut Tag
Our of our all-time favorites! The texture is like no other, and plays well with our watercolor artwork. Here a die-cut art tag is added, and the gatefold ensemble presentation features the wedding venue entrance.
Wax Seal and Velvet Ribbon Wrap
Customizable wax seal design, applied to a simple velvet band.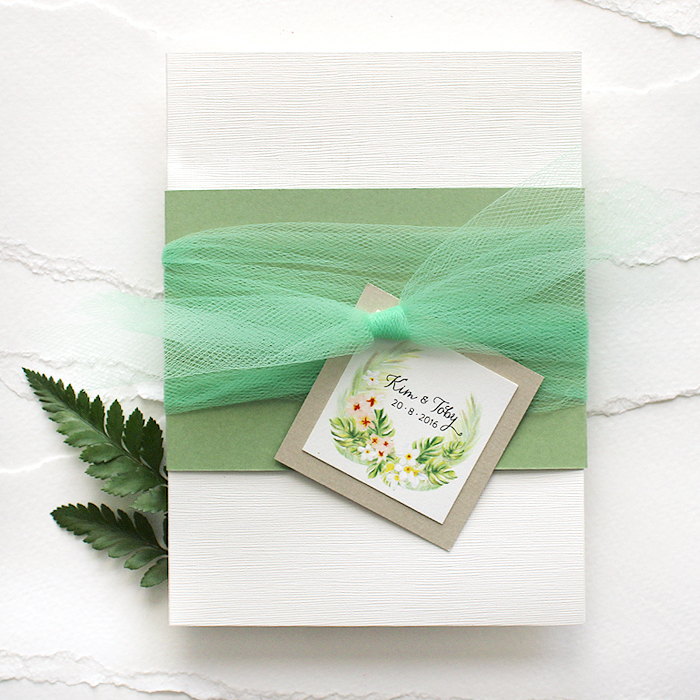 Tulle with Tag
Tulle can conjure ideas of weddings past but this presentation is slightly feminine and wholly delicate. A paper wrap and simple art tag are included for a bit of structure.
Single Art Wrap and Thread Accent
A simpler version of the invitation wrap when you just want that little touch of detail. Sparkly lurex thread is also a great option just on it's own!
Die Cut Flower Tag
Sweet and whimsical, any bloom can be fashioned into a perfectly shaped tag. Hanging from a wrap or affixed to the cover of a folder, the look is elegant but bursting with personality. Paired here with gold bakers twine.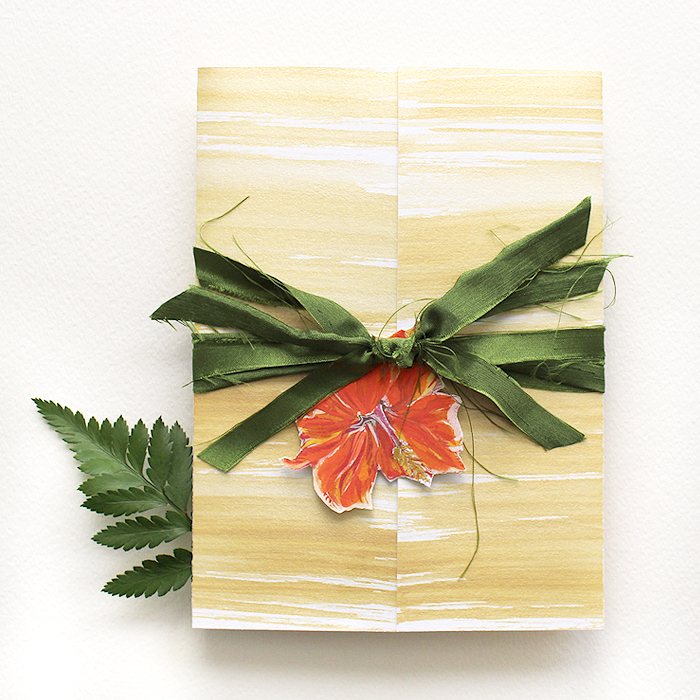 Gatefold Die Cut Tag
Gatefold invitation presentation mimics the look of window shutters, where the invitation is revealed inside. Here we've painted watercolor strokes and finished the look with a die cut flower.
Silk Bow
When you need extra texture, go for a big bow! We love the delicate, shimmery silk.
Wax Seal with Twine Wrap
Natural but elegant triple wrapped twine paired with a wax adhesive seal. The wax seal design can be customized to coordinate with your suite.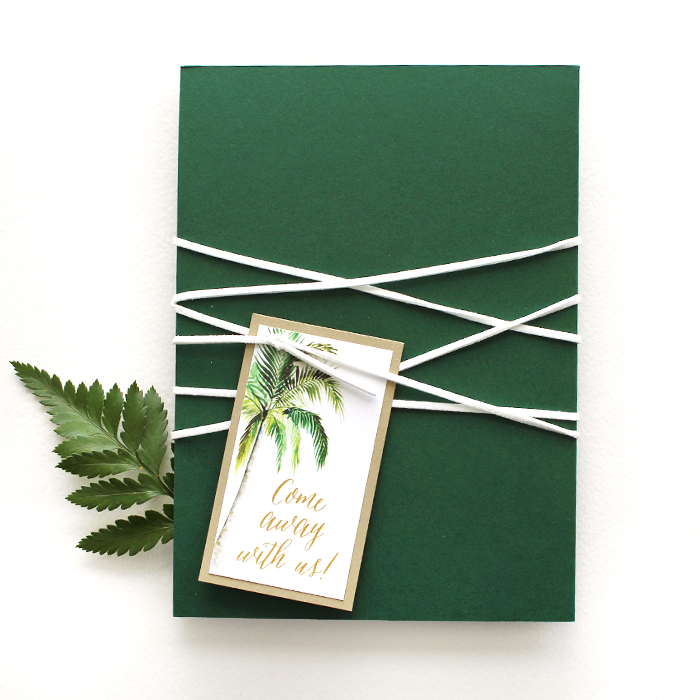 Faux Leather Lattice Wrap
Add extra interest with this intertwined wrap. The suede texture works well with a rustic or outdoor vibe, and here we've incorporated one of our classic art tags.
Art Tag with Linen Ribbon
Soft, understated linen ribbon is a perfect companion to our signature hanging artwork tags.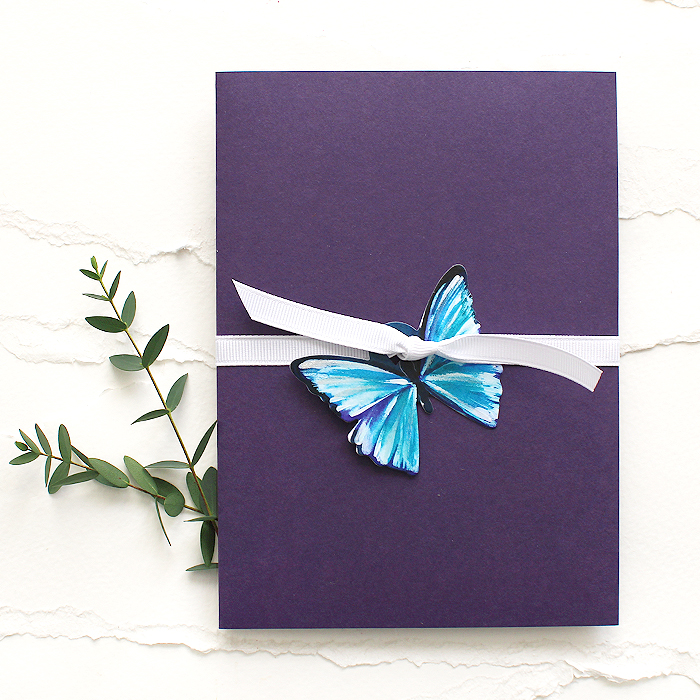 Die Cut Tag with Ribbon Wrap
We love our die cut tags, they add just the right amount of whimsy to your stationery!
Baker's Twine Single Wrap
A favorite embellishment, shown here in natural twine with a metallic twist through it.
Silk Ribbon Wrap
Our beloved chinois silk ribbon, shown here in gold and double wrapped with a pretty bow.
Double Wrapped Silk Knot
Add the perfect extra touch with thin delicate silk in a pretty double knot.
Vellum Wrap with Raffia
We love the beautiful transparent effect of vellum in our stationery suites. Here, a pop of bright raffia ties it in with the tropical flowers.
Simple Ribbon Wrap
Always a favorite, shown here in a satin finish. Coordinate the color with your suite, or add a watercolor art tag.
Thread Wrap
Elevate the invitation suite a few twists of thread for dainty accent.
Paper Twine Wrap
Add a rustic touch with paper twine, shown here with a gatefold-style presentation.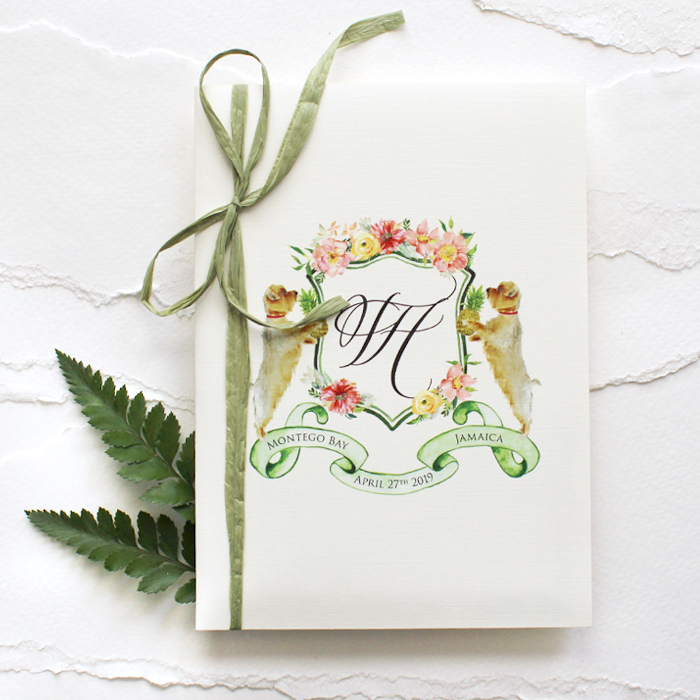 Raffia Bow
For a beachy or rustic vibe, raffia is a timeless texture.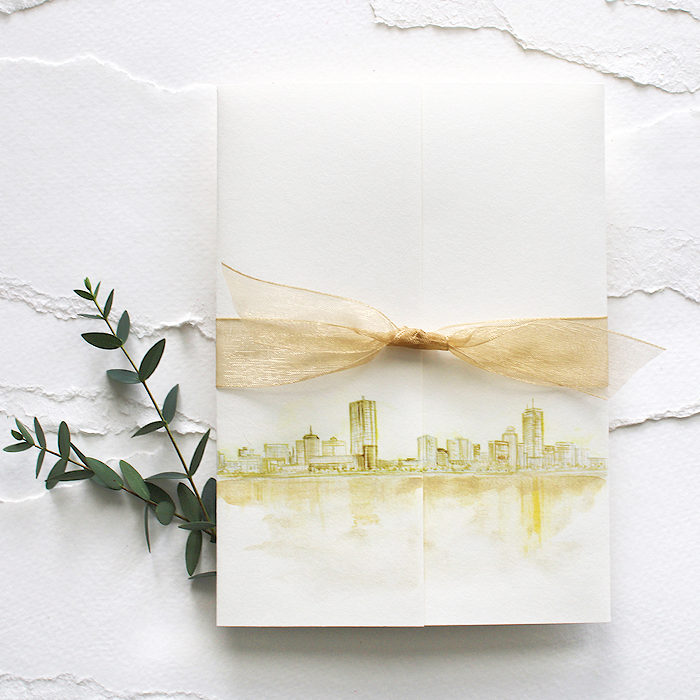 Organza Ribbon Wrap
Delicate and airy, we love the texture organza adds to any invitation.
Natural Twine Wrap
Pretty and versatile just on its own, or our natural twine can be paired with one of our art tags.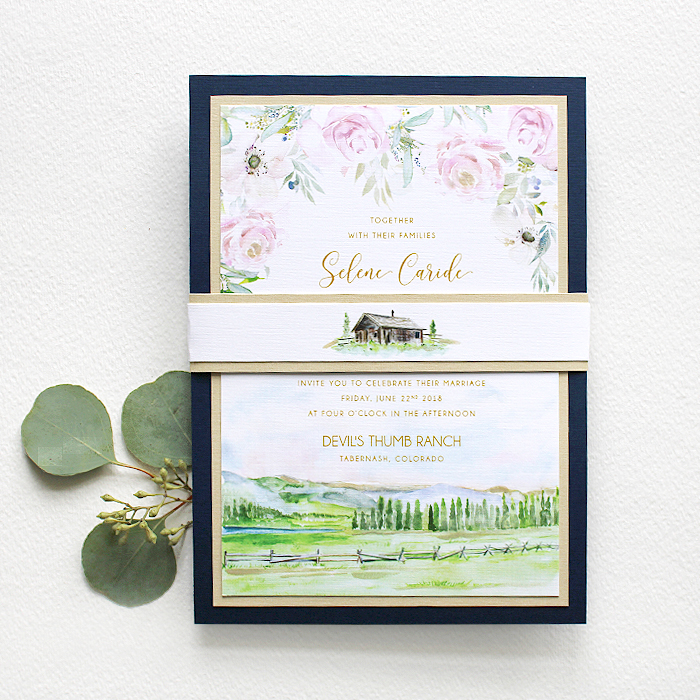 Double Cardstock Art Wrap
Two layers of cardstock with a sweet customized artwork detail that ties into the invitation artwork.
Wood Tag
We can create wooden tags in any shape. These more substantial details can become a small keepsake for your guests. Imagine when they open this envelope!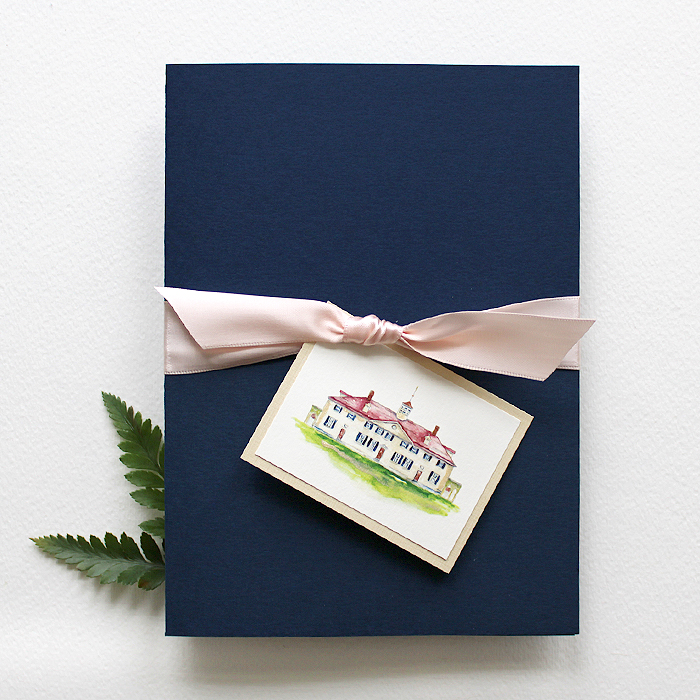 Hanging Art Tag with Satin Ribbon
Our signature embellishment with a satin knot and hanging art tag is shown here with a Pocketfold presentation.
Laser Cut Wrap
Our delicate artwork laser cut from shimmering cardstock, makes for a magical invitation embellishment. Here the look is paired with a wooden folder to hold all invitation pieces.
Painted Silk Ribbon
Our favorite ribbon – silk dupioni with all its texture and richness. Even more delightful is how beautifully the ribbon takes to paint. And so we paint!
Grosgrain Ribbon Wrap
A perennial favorite detail, available in a wide range of colors.
Ribbon and Tag
Here we adorn the Ensemble Folder with printed artwork and hand painted highlights. A whimsical tag tied together with ribbon features the knot or bow in the back for subtlety.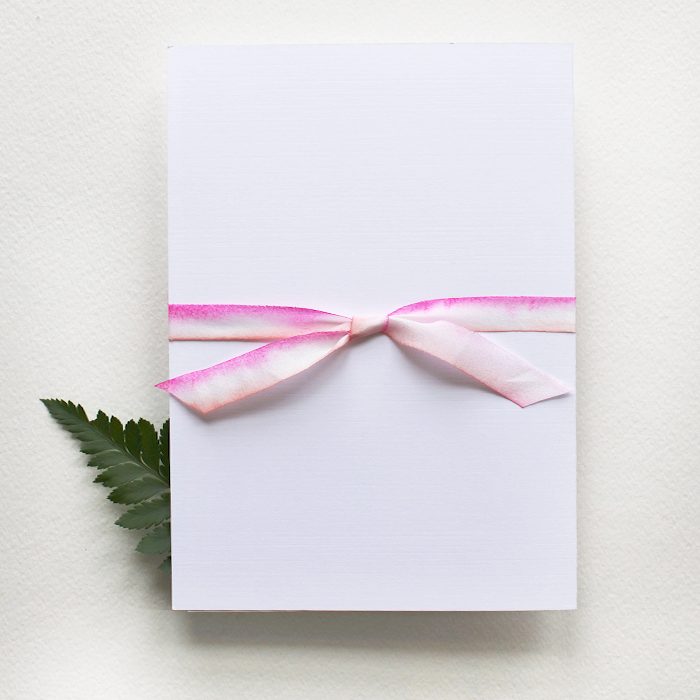 Delicate Painted Ribbon
Light chinois silk ribbon, hand painted with a soft watercolor effect.
Faux Leather Cord
We love this fun texture! Double wrapped here, and can also be used with a tag or paper wrap.
Die Cut Lemon Tag
Add a splash of sunshine with a custom lemon-shaped embellishment! This cute tag is popular for Italy destination events, but is equally fun on bright bridal shower invite.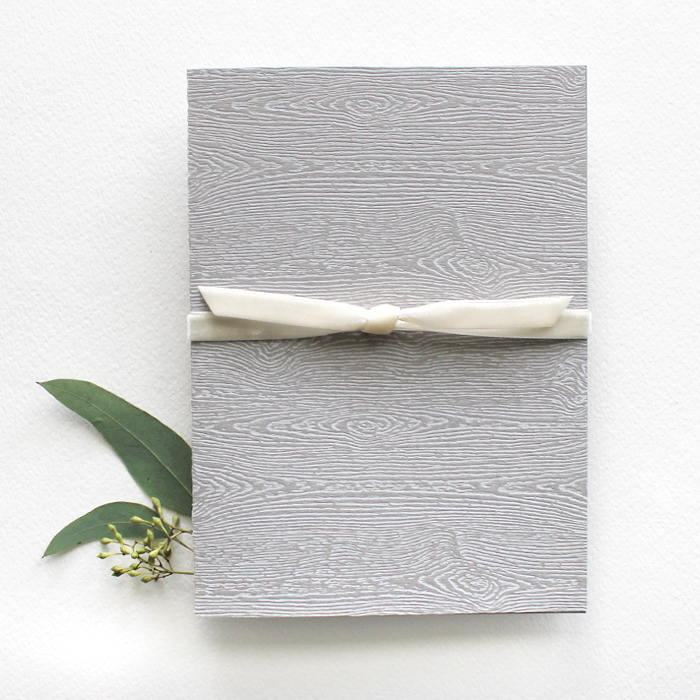 Velvet Ribbon Wrap
Classic and simple, a single wrap velvet ribbon available in a variety of colors, it can also be combined with a personalized art tag.